In May 2005, Rachelle and I took a vacation to Colorado. We spent the last few days of our vacation visiting Rocky Mountain National Park. After driving up Kawuneeche Valley on the western end of Trail Ridge Road, and then hiking and photographing Bear Lake and Horseshoe Park, I decided to get up and take some early morning photographs in the park.
Lily Lake
My first stop was Lily Lake. I was interested in photographing someplace new and as we hadn't come here the day before, and the drive was short, Lily Lake fit my plan nicely.
A mallard glides gracefully upon the lake.
Here's a close-up of the mallard.
I wasn't disappointed in the beautiful scenery at Lily Lake.
I walked a bit around the lake to take some photos of Longs Peak.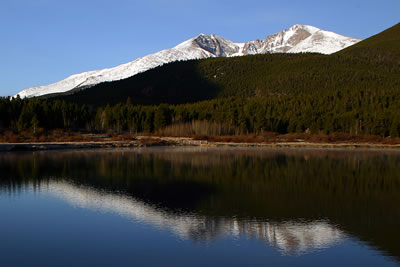 Here's a closer view of Longs Peak.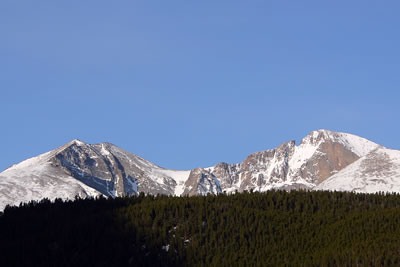 And this is a closer view of the summit of Longs Peak.
Sprague Lake
Next, I drove back to Sprague Lake. This early in the morning, it was just myself, the elk and the mallards that were enjoying the scenery.
The surface of Sprague Lake was like a mirror. This photo is similar to one I took the day before.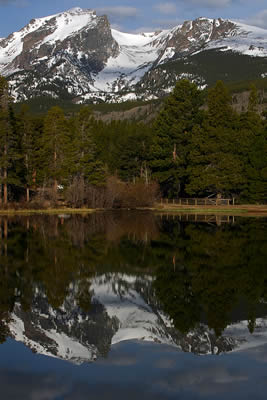 This photo shows Sprague Lake with Hallett Peak, Flattop Mountain and Tyndall Glacier in the background, and their reflections in the lake as well.
This photo is also similar to one I took on the previous day. In addition, I have a panoramic photograph of this scene.
Moraine Park
As I was leaving the park, I stopped in Moraine Park to take some photos.
Hallett Peak is on the very left end of this photograph.
These mountains rise out of the west end of Moraine Park.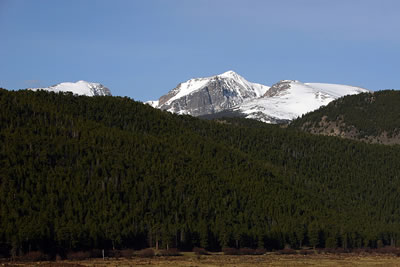 Hallett Peak sticks out just above the ridge.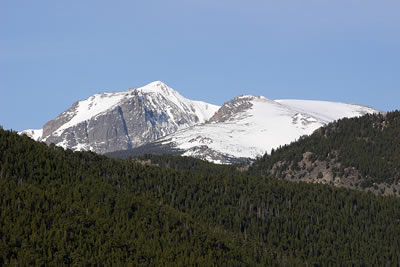 A close-up view of Hallett Peak and Flattop Mountain.
The mountain scenery south of Moraine Park. Longs Peak is on the left and Hallett Peak is on the right. I also have a panoramic photo of this stunning view.
Longs Peak rises majestically above Moraine Park.
One last photo of the breathtaking scenery in Rocky Mountain National Park.
After I returned to the hotel, Rachelle and I packed up our belongings, drove to the airport and returned home. Our vacation was over.