In May 2005, Rachelle and I took a vacation to Colorado. After arriving in Colorado, we spent our second day in Colorado with some friends who live in Colorado Springs visiting some of the beautiful sights around the area.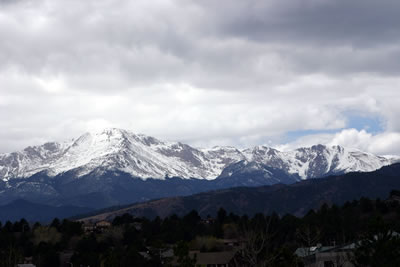 When we were leaving the hotel for the day, I took a photograph of Pikes Peak from the parking lot. It was an amazing sight to see this majestic mountain towering over the city from just about any place we went.
Garden of the Gods
After church, we took a picnic lunch to Garden of the Gods. When we finished our meal, we hiked along the Central Garden Trails.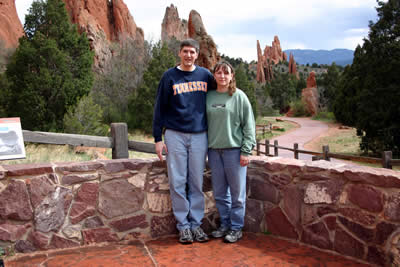 One of our friends took a photo of Rachelle and I with the awesome scenery behind us.
This is a photograph of South Gateway Rock.
The formation on the left is the North Gateway Rock and the one to its right is South Gateway Rock. The trail passes between the two rock formations.
Even with the overcast skies, the scenery was still remarkable.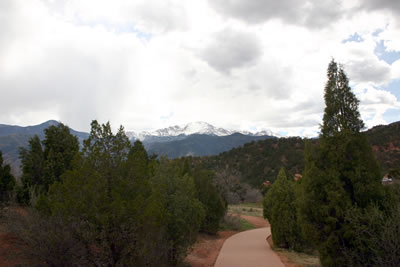 The trail also offered a great view of Pikes Peak.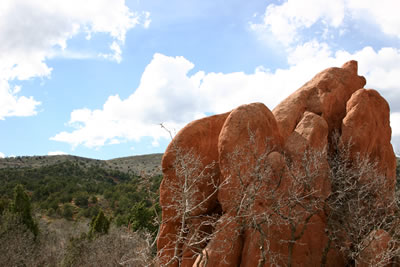 Eventually, the clouds began to clear.
As the sun appeared, it made the scenery even more spectacular.
As we left the park, I took some more photos of the beautiful landscape.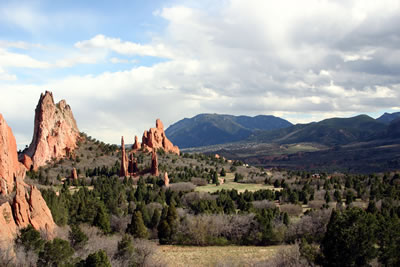 One last look at Garden of the Gods. The mountain in the background is Cheyenne Mountain, home to Cheyenne Mountain Air Force Station buried beneath the surface of the mountain.
Helen Hunt Falls
Next, we decided to go for a scenic drive. On the drive we stopped at Helen Hunt Falls.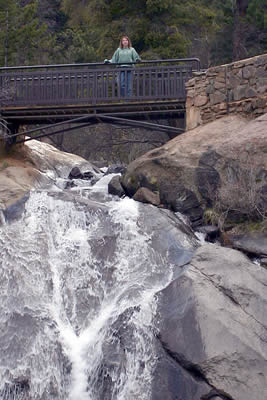 Rachelle posed for a photo at the waterfall.
Gold Camp Road
We then continued our scenic drive along Gold Camp Road.
I took this photo shortly after we started our drive. In the center of the photo, you can see downtown Colorado Springs as both the city and the plain seemed to extend to the horizon.
Later, I took this photo in which the sandstone formations of Garden of the Gods are clearly visible.
Cripple Creek
We ended our day by driving to the west of Pikes Peak. We visited Cripple Creek, where gold was discovered in 1890 and started the Pikes Peak area gold rush. People now seek their fortunes in the casinos of Cripple Creek.
Cripple Creek lies in a valley with the snow-capped peaks of the Sangre de Christo Mountain Range in the background.
All along our drive, we saw evidence of the historic mining activity which once dominated this area. This is a photo of one of the abandoned mines we passed along the way. Gold is still being mined in the area between Cripple Creek and Victor, CO.
The next day, Rachelle and I planned to drive to the summit of Pikes Peak, after re-visiting Garden of the Gods, and then going on to see Royal Gorge.