In May 2005, Rachelle and I took a vacation to Colorado. We started our third day in Colorado by re-visiting Garden of the Gods and then driving to the summit of Pikes Peak.

We started the day by re-visiting Garden of the Gods. This photo of Gray Rock and South Gateway Rock with Pikes Peak in the background was taken from the visitor center overlook. You can also view a panoramic shot of this landscape.
Garden of the Gods

The Garden of the Gods sign welcomed us back to the park.

North Gateway Rock loomed above us.

This was an interesting formation I had noticed the day before, so we pulled over to allow me to take some photos of it.

This is a photo of the backside of the previous rock formation which shows how the rock has been tilted to the side.

This would be the first of three formations named "Balanced Rock" we would see on our trip.

Rachelle standing beside the rock gives some perspective to just how large this formation is.
Pikes Peak
We finished up our trip to Garden of the Gods and then headed on to Pikes Peak.

On our way to the summit, we stopped at Crystal Reservoir to enjoy the wonderful scenery.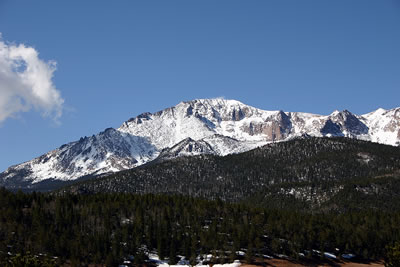 Here's a close-up of the summit.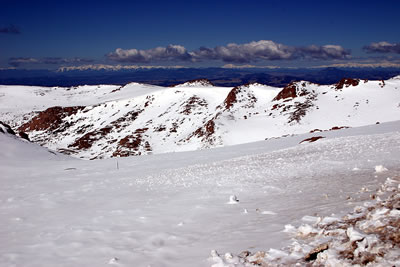 As we continued towards the summit, we eventually left the trees behind. The snow-capped peaks in the distance comprise the Continental Divide.

More snow-capped peakes. Needless to say, the spectacular views captivated us.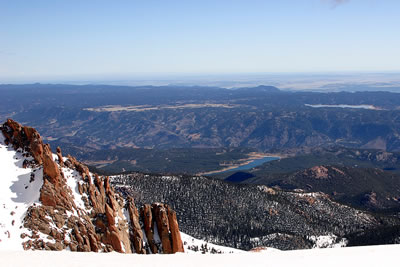 Crystal Reservoir lies far below us now.

More of the impressive scenery along our drive to the summit. The amount of snow that was present amazed both Rachelle and I.
Pikes Peak was named for Zebulon Pike, an early American explorer of the Southwest, who saw the mountain in 1806. Soon afterwards, he attempted and failed to reach the summit, and is said to have declared that no one might ever scale the mountain. But in 1820, Edwin James successfully ascended the mountain. The mountain also inspired Katharine Lee Bates to write "America the Beautiful".

Eventually, we arrived at the summit–14,110 feet above sea level.

Facing south at the summit, the Pikes Peak highway is visible as it winds its way up the mountain.

Besides driving up the highway, the Pikes Peak Cog Railway takes visitors to the summit. In addition, the Barr Trail, a 13-mile hike, offers adventurous individuals access to the peak.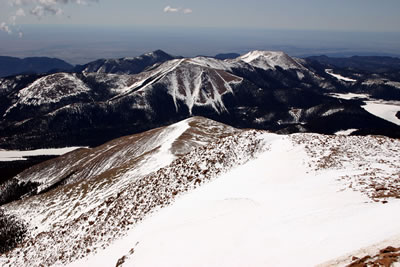 More of the amazing scenery that greeted us at the top of the mountain.

Colorado Springs lay before us to the northeast. Just visible in this photo are the rocks of Garden of the Gods.

This photo shows Garden of the Gods a little bit better.
After eating lunch at the summit, we descended down the mountain, and traveled on to Royal Gorge.