In May 2005, Rachelle and I took a vacation to Colorado. During our trip, we took a slight detour into Utah. After visiting Arches National Park, we decided to briefly visit Canyonlands National Park. Canyonlands is divided into three separate parts by the Colorado and Green Rivers. We only had time to visit the Island in the Sky District.
Canyonlands National Park

The park sign greeted us as we entered Canyonlands National Park.

Just like at Arches, the wildflowers brought color to the desert.
After stopping at the Visitor Center, we took a short hike for our first views of the canyon.

Near the Visitor Center, we had our first look at one of the canyons from which the park derives its name. This viewpoint overlooks Shafer Canyon which leads to the Colorado River.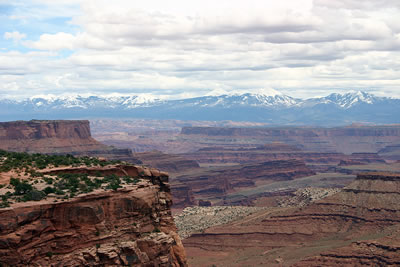 The La Sal Mountains rise majestically above the canyons.
Next, we drove to the southern end of the road, stopping at the Orange Cliffs Overlook to eat lunch and take in the awesome scenery.

From this overlook we had a view of the canyon that was carved by the Green River.

In the distance from this overlook, we could see the Maze District, one of the other areas of the park.
Next, we headed to the Grand View Point Overlook, the southernmost viewpoint in the Island in the Sky District.

In this photograph the White Rim Road is visible. It is an unpaved road which gives visitors to the park access to the lower canyon rim. Unfortunately, we did not have time to spend driving the road, so we had to settle for this spectacular view.

From this vantage point the Green and Colorado Rivers were not visible. The rivers have cut deeper, narrower channels in the broad canyons we saw. Somewhere below us the Green River joined the Colorado on its journey south.

From this distance the spires of the Needles District look very similar to the Fiery Furnace of Arches National Park.

The snow-capped peaks of the La Sal Mountains tower above the landscape.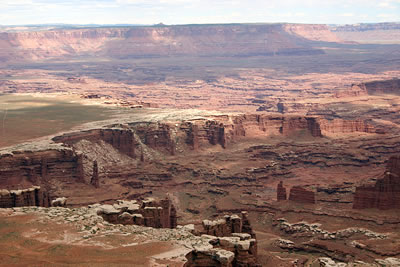 Our last view of Canyonlands: a close-up of White Rim below us. Canyonlands reminded both Rachelle and I of the Grand Canyon on a smaller scale.
It was time to end our brief visit to Canyonlands National Park. We left and headed back to Colorado where we would make a brief visit to Colorado National Monument.