In the Summer of 1997, I took my first plane flight in a little Cessna piloted by a friend of mine. My friend had just gotten his Pilot's License, and I was his first victim, err…, passenger as a result of a promise he made me to take me up for a flight when he finally got his license. It was a hazy day so these pictures aren't of the best quality, but they do record the flight pretty well.
These photos are from a trip we took to see a rockslide on I-40 at the North Carolina-Tennessee border. It was our second flight of the day. Earlier that day, we had gone for a short flight over Oak Ridge and part of Oak Ridge Labs to be sure that I would not be sick or anything. (My friend was a bit cautious – since I had never flown before – that I might get motion sickness once we were in the air, and he wanted to be sure that we wouldn't be far from the landing strip, just in case I freaked out.) I was so excited afterwards that we reserved the plane for the afternoon and went for a second trip. On this trip we thought to bring a camera, which we had forgotten on the first flight.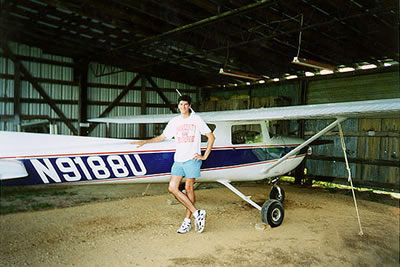 Here is a picture of me with the infamous plane. Can you believe that my first flight was in such a small plane? What was I thinking?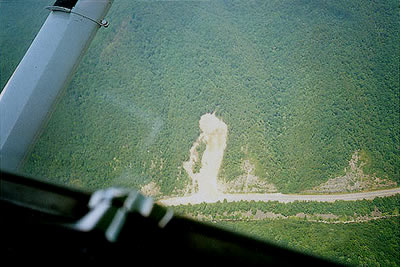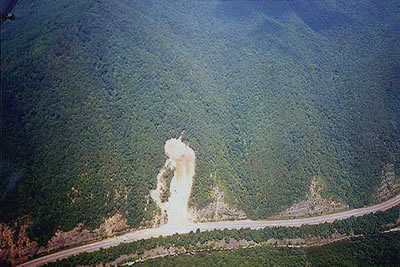 And this was our target – the rockslide on I-40 at the North Carolina/Tennessee border.
On our way to the rockslide, we circled around the University of Tennessee, Knoxville campus. The following pictures are of the campus.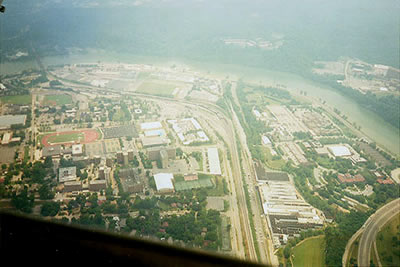 This is the University of Tennessee, Knoxville looking down Volunteer Blvd. on the West end of campus.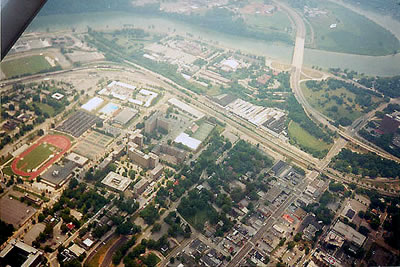 This is the west end of campus looking at the Presidential courtyard …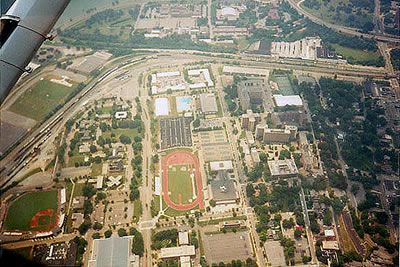 … And this photo is looking down on Tom Black Track.
While we circled the campus, I took a couple of photographs of Neyland Stadium, one of the largest on-campus stadiums.

Here's a photo looking at the other end of campus – showing Neyland Stadium and Thompson-Bolling Arena.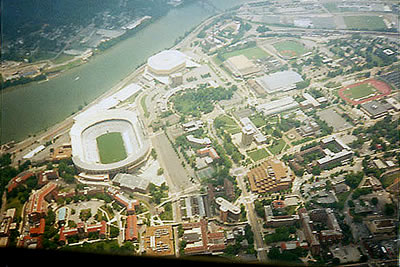 And this picture is looking down on Neyland Stadium with Thompson-Bolling Arena in the background. In the lower left hand corner you can see The Hill and Ayres Hall with it's bell tower.